Home Automation and Security
Home Audio and Video
Entertainment
We sit down and guide home and business owners through the entire technology decision making process. From choosing something as simple as your wi-fi network to automated shades and lighting, appliance, home automation, and even helping you create a home theater where your family can bond, relax and get away from the stressors in life.
Contact Boston Automations today to learn more.
Over the last few years, Home Automation has become the way to define how individuals can control basic tasks around their home with easy to use technologies. Not only does automation make it easier to navigate your home on a daily basis, but computer systems never forget (lock the doors, close the garage, turn off the lights, set the thermostat or shut all the windows), they never tell you no and they have also become so simple to use that kids and baby boomers are able to take advantage of the products on the market.​
This is the only required piece of equipment to make your system run. It is the brain behind your automation system and allows the products in your home to communicate and work together. It is compact, only needs to be plugged into a single wall outlet, uses cellular technology, so you don't need wi-fi and also comes with a 24-hour battery backup in case of a power outage.
The Intelligent Thermostat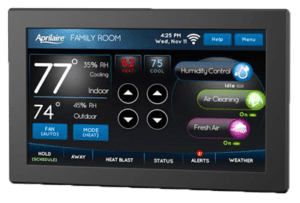 The intelligent thermostat is more than just a thermostat, it's a commitment to keeping your family comfortable and monitoring your HVAC system of proper functioning. Control the comforts of home right from your smartphone, tablet, or computer – no matter where you are. Our geo-services system will enable your thermostat to automatically adjust itself to save energy while you're out, yet always return to a comfortable temperature before you get home.
The smart energy switch can be programmed to control lights or any appliance from anywhere in the world, creating automated schedules to fit your lifestyle.
Our state-of-the-art carbon monoxide alarm alerts you when unsafe levels of CO are detected via siren, text, and email notifications. When integrated with the smart thermostat, the heating and cooling system can also automatically be shut off as soon as carbon monoxide is detected to prevent additional CO from being produced or distributed.
The water sensor is designed to protect your home by detecting leaks from key areas around the home and notifying in the event of a leak. The sensor can detect the smallest drop of water, helping you catch a small leak before it turns into catastrophic water damage.
WaterCop Water Main Turn-off
When combined with the water sensors, the water cop will physically and instantly turn off the water line coming into your house. This is especially handy if a leak occurs while you're not home, on vacation or in an area of your house that is infrequently used. The WaterCop is great for vacation properties as well and can save you tens of thousands of dollars in water damage costs and lost valuables. The WaterCop can be turned on and off with just a touch of a button on your mobile app, which makes it handy if you're every doing plumbing work on your home.
Smarter locks create unique lock codes for each user and set a schedule to control when the codes can be used. You can limit access by day and time. You can create and disable codes at any time, so there's no need to rekey or change your locks. Great for family members, dog sitters, cleaners, repairmen and when your hands are too full to find the key to your door. The deadbolt can be set to automatically lock after 60 seconds or even at a time of day, so you can have peace of mind when going to bed at night.
The wi-fl doorbell camera is the 'eyes and ears' of your front door's access control. It's part doorbell, part two-way communications device, part security camera-and it's fully integrated into your smart home. If you see someone at the doorbell you can click on the deadbolt and let them right in.
Indoor and Outdoor Security Cameras
Our secure camera will allow you to have eyes & ears on your home while you are home and away. Whether you want to check on the baby's nursery, the kids in the yard, or what's going on in your driveway, you can monitor it all with an unlimited number of cameras. Most of our indoor cameras can be unplugged and moved to a new location in seconds and they are extremely discrete. Best of all, no one will ever have access to your camera unless you give them an account in the app.